Those people, who are struggling to pay their debt, can get cover from the court by filing for Chapter 13. It also applied to people who face short-term financial hurdles, like loss of employment, illness or big unforeseen expenses.

It is generally filed by people who may face home foreclosure because it can put a halt to that process. By filing chapter 13, many people have been able to retain their homes, cars and other valuable possessions while they settle matters with their creditors.

The main motive of chapter 13 is to help you consolidate all your bills that you are so struggling to pay each month, into one affordable payment each month. It is highly recommended that you consult a lawyer first and see if you qualify to file for chapter 13 and whether it is the best option for you. For the paperwork, you will need a competent lawyer who will guide you through the entire process.
The lawyer's job is key here because he/she will make sure all your deadlines are met, the filing requirement is as per standard, all your allowable expenses are accounted for and that the repayment plan you have proposed will help you make your payments and keep paying for your routine expenses.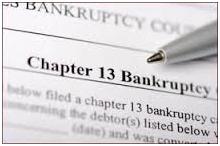 Filing for chapter 13 is a complicated process and any errors in the same can lead to a petitioner's automatic stay on the property to be withheld or from the repayment plan from being approved.
At JR Law, we have the right chapter 13 bankruptcy attorney for this job. We have 24 years of experience in this field and know all the ins and outs of the trade. Contact JR Law for a consult and we are sure to help you out in this regard.
Unlike chapter 7, you do not need to go through a means test to qualify for filing chapter 13. Only your ability to pay off your total secured debt will render you qualified for the filing of chapter 13.
Though, you need a predictable source of income which will convince the court that you are enabled to pay off your debt. Chapter 13 puts a limit on the total value of unsecured and secured debt that a filer can possibly have.
There are certain pre-filing requirements that need to be met before chapter 13 is filed. Since October 2005, all petitioners are required to complete the Trustee approved Credit Counseling Briefing. The credit counseling certificate is filed by your bankruptcy lawyer at the same time the petition is filed. It has to be done or your application may be dismissed. This may give the creditors an opportunity to take repossession or any other collection action, which may be very troublesome for you.
Just before you file bankruptcy, your bankruptcy attorney will guide you to an approved agency for Credit Counseling or you can get a briefing online. There are various websites that provide this service.
Filing for chapter 13 begins with filing of the bankruptcy petition. As soon as you file for chapter 13, the court will stop your creditors from collecting anything from you, and it will remain so as long as the case is pending. A notice will be sent to the creditors and a bankruptcy trustee will be assigned to you.
Within 15 days of filing, the court will send a Notice of Case Commencement to you, the petitioner, and the creditors. This notice will have details like the time, location and date of the creditors' meeting and the deadlines for objections or claims from the creditors.
All schedules pertaining to the petitioner's assets, debts, expenses and income should be filed within 15 days after the commencement of the case. This deadline also applies to the repayment plan.
Your bankruptcy attorney should be well-trained to gather and evaluate your financial information in order to make your case. There has to be an in-depth analysis of mortgage arrears, the mortgage itself and any tax obligations. Likewise, the budget also needs to be evaluated so that the repayment plan can be drafted suitably.
At JR Law, we will do all this for you at an economical fee. Help us help you. Contact us now.